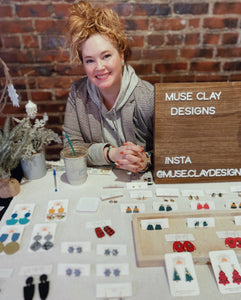 Laura here, owner + designer! At •muse•, you'll uncover a world of unique clay creations that draw inspiration from abstract art and whimsical design.

•muse• offers exclusive design events - gather your friends + family, bring some delicious snacks and drinks, and let your creativity flourish as we craft beautiful clay earrings together. This is fun for the holidays, birthday parties, office events, and more!

Are you curious about extraordinary women from history? At •muse•, each creation pays tribute to pioneering scientists, inventors, advocates, poets, writers, and more. Find your •muse• here, and let it ignite your inspiration!
Sold Out?
I make a few of each design. If you see something you like but it's sold out, please message me. I can recreate *most* designs or we can work on customizing a special design just for you.
Message Me